Who we are
Meet the Doctors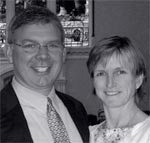 Dr. Deanna O'Dwyer and Dr. David Swensen have been serving the families of Melrose and the surrounding communities since 1991. Both received their undergraduate degree (B.S) from the University of Massachusetts at Amherst, Dr. O'Dwyer in Animal Science, and Dr. Swensen in Exercise Science. They
received their Doctor of Chiropractic degree from the Los Angeles College of Chiropractic, and continue to pursue lifelong learning in their fields.

Dr. O'Dwyer has attended extensive postdoctoral studies in chiropractic Neurology, Sports Injury, Pediatrics, Orthopedics. She is certified in Webster Technique. She also practices veterinary orthopedic manipulation (VOM) and equine and canine chiropractic. Dr. O'Dwyer is also a certified spinning instructor.

Dr. Swensen has taken extensive training in sports injuries. He is a fellow of the Academy of Chiropractic Orthopedics (FACO), and a strength and conditioning specialist. He is certified in selective Functional Movement Assessment (sFMA). He is also a ASCA Level II swimming coach and has been a contributor to Splash magazine (USA Swimming's membership Magazine).

Both doctors are active in community service in a variety of organizations, including: Rotary International, YMCA, Melrose Chamber of Commerce, New England Marathon Swimming Association, North Shore Chiropractic Society, and American College of Chiropractic Orthopedists.
Massage Therapy is also available at our office.
Schedule time with Casey Fernandez, LMT by calling the office